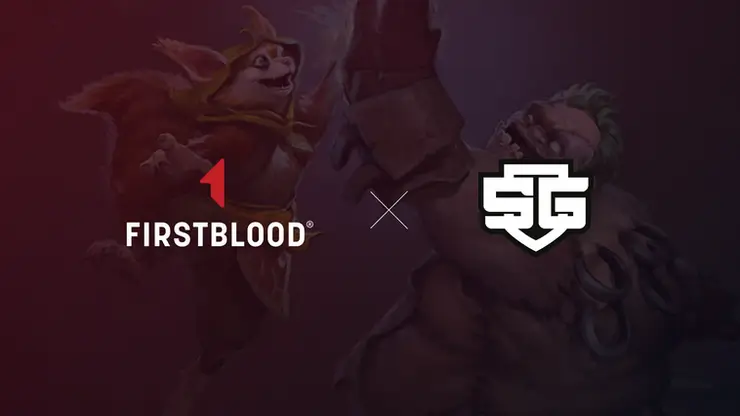 Firstblood · 3 mins read
FIRSTBLOOD ANNOUNCES PARTNERSHIP WITH SG ESPORTS TEAM IN LATIN AMERICA
July 3rd, 2021 – We are very excited at FirstBlood ® to announce our new partner in Latin America. SG Esports is one of the greatest teams in the Dota2 current scenario and will be participating in The International this Summer. Welcome Home @SGEsports!
"Having a partner like FirstBlood is a huge pride for me and SG Esports. The platform plays a key role in the development of a healthy Esports landscape and having the chance to work with them is sensational!" Mateus Cysne Barbosa, CEO SG Esports.
As part of the partnership, FirstBlood will work closely with SG Esports by creating events and tournaments for the gaming community in Brazil. These events will also be streamed to DOTA 2 communities by FirstBlood´s and SG´s influencers.
"FirstBlood is thrilled to partner up with SG Esports as an Official competition platform. This is a first step in our expansion with a popular and well-known Brazilian based Dota2 team." — Joe Zhou, CEO FirstBlood" — Joe Zhou, CEO FirstBlood
Gamers looking to stay updated on FirstBlood and participate in Dota2 tournaments can visit our Landing Page– https://www.firstblood.io/teamsecret/ , Facebook pages– https://www.facebook.com/FirstBloodio/ or https://www.facebook.com/FirstBloodLATAM/ and sign up to play in DOTA 2 tournaments at https://www.firstblood.io
###
About FirstBlood
FirstBlood is a thriving, US-based, tech startup focused on bringing innovative technology that will help shape esports competitions and the future generations of competitive gamers. FirstBlood is constantly working towards bridging the gap between amateurs and pros using their automated tournament platform. All while giving players the power to win big while playing the games they love. For more information on FirstBlood, please visit https://www.FirstBlood.io
FirstBlood® is NOT AFFILIATED, AUTHORIZED, LICENSED OR ENDORSED by Dota™, Dota 2™, Steam™, PLAYERUNKNOWN'S BATTLEGROUNDS, PUBG, PUBG, Activision Publishing, Inc …Dota 2™, the Dota logo® and Steam™ are trademarks of Valve Corporation. PLAYERUNKNOWN'S BATTLEGROUNDS and PUBG are registered trademarks, trademarks or service marks of PUBG and the PUBG Corporation. ACTIVISION, CALL OF DUTY, CALL OF DUTY BLACK OPS, and MODERN WARFARE are trademarks of Activision Publishing, Inc. All other trademarks and trade names are the properties of their respective owners.
—
About SG esports
SG e-sports is a Brazilian professional gaming organization. By winning the South American qualifiers for the Kiev Major in 2017, they became the first Brazilian team to participate in a Major tournament organized by Valve. SG Esports will be the Brazilian representative at The International 2021.