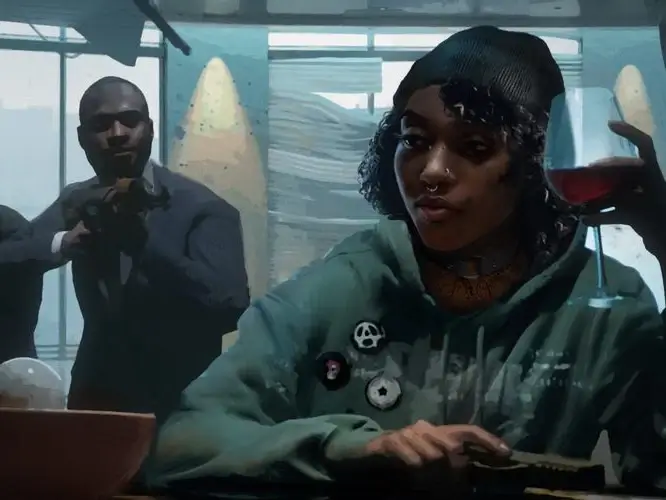 Firstblood · 5 mins read
Battlefield Adds First Non-Binary to Series
The remaining Battlefield 2042 specialists have been revealed, prompting a lot of questions from the FPS community.
An action-packed trailer gave fans their first look at five new specialists, showing off their special abilities and unique personalities. Each specialist plays in a completely different way, bringing even more dynamic gameplay to Battlefield 2042.
Navin Rao
Class: Recon
Place of Birth: India
Rao has a Cyber Warfare Suit that scrambles enemy vehicle systems and triggers base defense from a distance. He can also hack into enemy systems for valuable intel with his Trojan Network trait.
Rao studied electronics and engineering when he was younger and now uses these skills to support his country as part of the Indian Armed Forces and then the Navy Marine Commando Unit. For Rao, being a part of the Task Force is all about protecting those who need it most.
Santiago "Dozer" Espinoza
Class: Assault
Place of Birth: Mexico
Dozer has an SOB-8 Ballistic Shield that can be used as a battering ram or to protect himself and his squad from incoming fire. When paired with his trait, Blast Resistant, Dozer is able to close the gap on enemies.
Dozer came to the United States as an undocumented immigrant and joined the US Army as a way to gain citizenship. But the military reversed their position on immigration, deporting Dozer from the country he risked his life for. After starting a family and a gun business, Dozer and his family were forced to head to Puerto Rico when a storm destroyed his new home. Now he uses his experience as an assault specialist to aid Non-Patriated causes.
Emma "Sundance" Rosier
Class: Assault
Place of Birth: France
Sundance uses Smart Explosives to disrupt the enemy, from scatter grenades to micro-drones. They also have the Wingsuit Operator trait, allowing them to easily approach enemies undetected amidst the chaos.
EA describes Sundance as "skilled and fearless." They started as a trusted associate in a crime syndicate before becoming a model soldier in the Armee de Terre. But they are still haunted by their past. Sundance is trying to keep a low profile while using their talents to help however they can.
Constantin "Angel" Anghel
Class: Support
Place of Birth: Romania
Angel is a supply expert, dropping a Loadout Crate as his specialty. This provides his quad with armor, weapons, and ammo. He also can revive an ally with their bonus armor health filled.
Angel grew up as the son of a mechanic so he's always loved taking things apart and attempting to rebuild them. This later made him an incredible asset to the Romanian navy. But the loss of his ship left him stranded. He put together a distress beacon, catching the attention of a No-Pat vessel.
Ji-Soo Paik
Class: Recon
Place of Birth: South Korea
Paik can make enemies visible (even through walls) with her EMG-X Scanner. She can also triangulate on whoever is damaging her, returning fire.
Paik joined the military, inspired by her grandfather. The competitive soldier was recruited by a Republic of Korea Special Operations Forces unit that specialized in covert infiltration. But she was separated from her unit after a vicious attack in New Guinea, finding refuge on a No-Pat ship. Now she is part of the Task Force as a deep cover recon agent, "probing the secrets of Daesong's corporate headquarters."
Is Sundance Non-Binary?
When the five specialists were revealed, the Battlefield community was quick to pick apart every aspect of the characters' abilities and stories. One thing that a lot of fans picked up on was Sundance's pronouns in all of their descriptions. This prompted many to wonder if Sundance was nonbinary.
DICE Community Manager Adam Freeman confirmed Sundance's gender on Twitter. Freeman said: "Yep. Sundance is non binary and uses the pronouns they/them."
A lot of people worried about the gaming community's reaction to this news. But Sundance is far from the first character in an FPS to be part of the LGBTQ+. Apex Legends' Bloodhound is also non binary. Rainbow 6 Siege recently added transgender Osa to the roster. Overwatch has confirmed that Tracer and Solder: 76 are gay.
How Will Angel's Revive Work?
During the Battlefield 2042 beta, a lot of participants found that reviving teammates was very slow. This became a major problem during matches, making many wonder if Angel would be a viable pick in the actual game when it launches.
DICE Core Gameplay Designer Florian Le Bihan has confirmed some changes to reviving in Battlefield 2042. After receiving this feedback, Bihan said that revives are faster and support players will get clear confirmation that the revival was successful. They will no longer have to wait for teammates to stand back up.
Yes, many changes to make this experience faster with better feedback too ?

— Florian – DRUNKKZ3 (@DRUNKKZ3) October 21, 2021
This was met with a lot of applause from the Battlefield 2042 community.