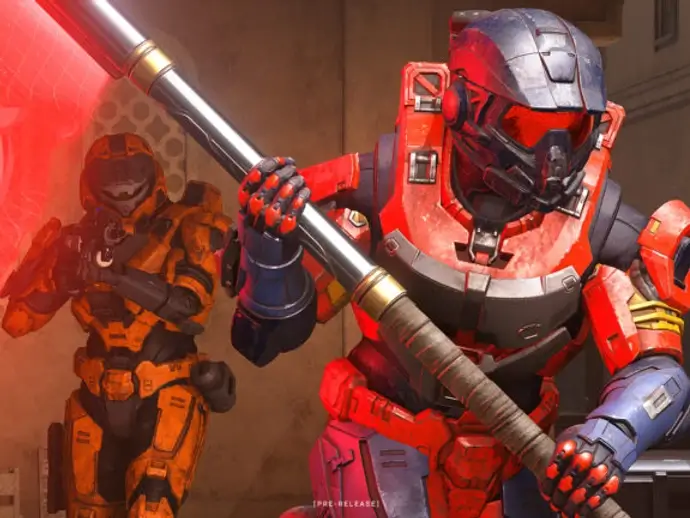 Firstblood · 3 mins read
Halo Infinite Announces Esports Plans
Halo Infinite isn't even out yet, and yet the esports scene is taking off.
Competitive Halo seems to be making a return and the esports community is already anticipating that it will be huge. The Halo Championship Series recently shared a trailer for their upcoming season that also included some major esports organizations that are planning to take part. This includes G2 Esports, Cloud9, FaZe Clan, and more.
We're proud to present your #HCS Partnered Teams for the launch of #HaloInfinite!@Cloud9@Envy@eUnited@FaZeClan@FNATIC@G2esports@natusvincere@Sentinels@Spacestation pic.twitter.com/afDk687v0m

— Halo Esports (@HCS) August 30, 2021
But this wasn't just an announcement. A few of the esports organizations taking part in the Halo Championship Series already have a roster. This shows that Halo's competitive scene has been in talks for a while and that many large esports organizations believe it will be major.
"Halo Infinite marks the next era in the franchise, and with it comes the next era for the Halo Championship Series. Behind the scenes, we've been hard at work for the last few years building out the ecosystem with teams being a huge component of that," the Halo website read.
According to Halo developers, this has been a long time coming and a pretty hefty process. This included getting feedback on their partnership program, opening up applications, and then selecting the team and signing contracts. Now, a few years later, the teams can finally be revealed.
Here are all of the organizations that will have a team in the Halo Championship Series.
Cloud9 – Penguin, Eco, Stellur, Renegade
Envy – Pistola, Trippey, aPG, Lucid
Sentinels – Snakebite, Lxthul, Royal2, Frosty
eUnited – Rayne, Ryanoob, Spartan, Nick
FaZe Clan
G2 Esports
FNATIC
Spacestation
Natus Vincere
Halo fans instantly recognized many of the names, including Pistola, who has played Halo competitively since Halo 3. Sentinels' team was dominant in the Halo 5 Guardians scene.
"Part of why these teams were selected was because they wanted to be a part of the Halo community for the long haul," a press release read.
The press release continued to explain that the above teams "invested significant funding" into the Halo esports ecosystem. In return, the Halo Championship Series wants to give each organization the chance to expand their reach in the Halo scene.
The first step is providing in-game content for fans to purchase. The partnered teams will receive a "significant share" of the revenue. There will be multiple bundles for each partnered team within Halo Infinite.
The partnered teams will also be given "a wealth of content and opportunities to film content" at Halo events, creating fun videos for fans. Each Halo team can also have booths at Halo events. This would let teams spend time with the Halo community.
Halo Infinite will be released on December 8, 2021.