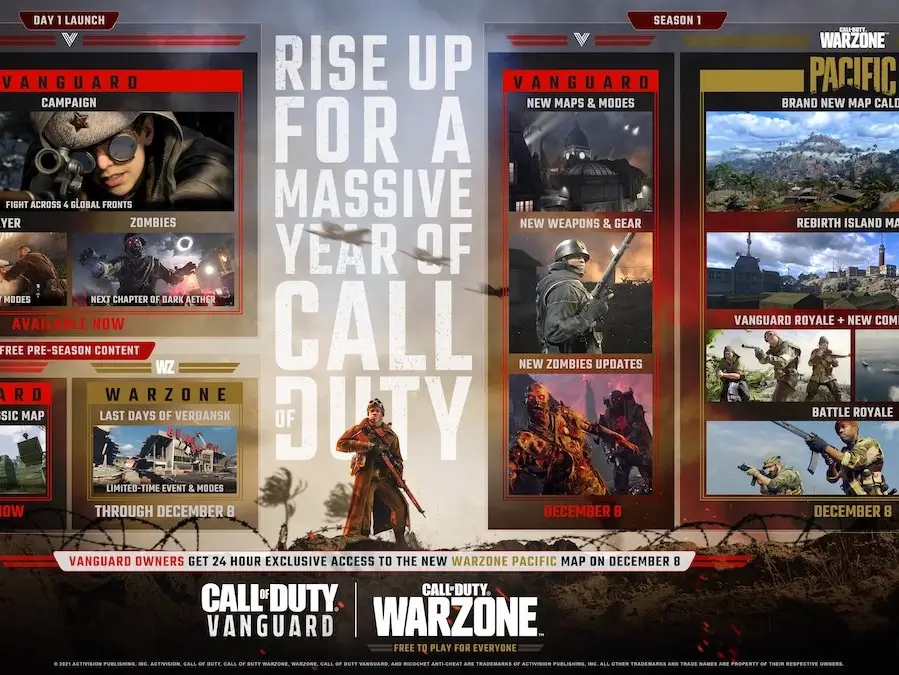 Firstblood · 2 mins read
Vanguard Season 1 Content Leaks Show New Cosmetics & Weaponry
Promotional art of Call of Duty: Vanguard weapon and operator skins from PlayStation's database have been leaked ahead of Season 1.
Call of Duty: Vanguard Season 1 has been postponed to December 8, but that hasn't stopped information from coming out about new content coming next month. Season 1 will bring a new battle pass and seasonal updates, featuring new weapons and operator skins. It will also have a new map, Caldera.
With the game's disappointing opening week, it's no surprise that fans are anxiously waiting for new content to drop. Leakers have already gotten their hands on some files that show what's to come in Season 1.
SizePlayStation dropped some images from Sony's database that showed off parts of the Season 1 update. The tweet showed three new operators along with their weapons. The island featured behind them is most likely Warzone Pacific's new Caldera map.
? Call of Duty®: Vanguard Update 01.008.000 (PS4 : 01.08) Added To Database.

? Season One ?

⬛ New Download Size :
⬜ US : 40.773 GB

? Medium Update Size !

? #Vanguard #CallOfDuty pic.twitter.com/IzXfX8pHCz

— Playstation Game Size 2 (@SizePlaystation) November 20, 2021
Other Call of Duty leakers have dug up some new weapons. Leaked images show the Welgun and M1944 Hyde Carbine submachine guns. Another leaker uncovered the PTRS-41, a sniper rifle that many fans are already extremely fascinated by. It's still unclear if these are confirmed new weapons or cosmetic variants of existing Vanguard guns.
So far we know 2 of the 3 Vanguard Season One guns.
• Welgun
• M1944 Hyde Carbine pic.twitter.com/IYdPiqjXSu

— Hope (@TheGhostOfHope) November 20, 2021
Call of Duty developer Activision Blizzard has been struggling with a lot of backlash and employee unrest after the company was accused of gender discrimination. This has led to the delay of Overwatch 2 and the newest Diablo.
It seems to have impacted Call of Duty: Vanguard as well. The launch was weak with very little marketing or fanfare. And now Season 1 is coming later than expected. Hopefully Season 1 will deliver or Call of Duty fans — and pros — may start considering alternati