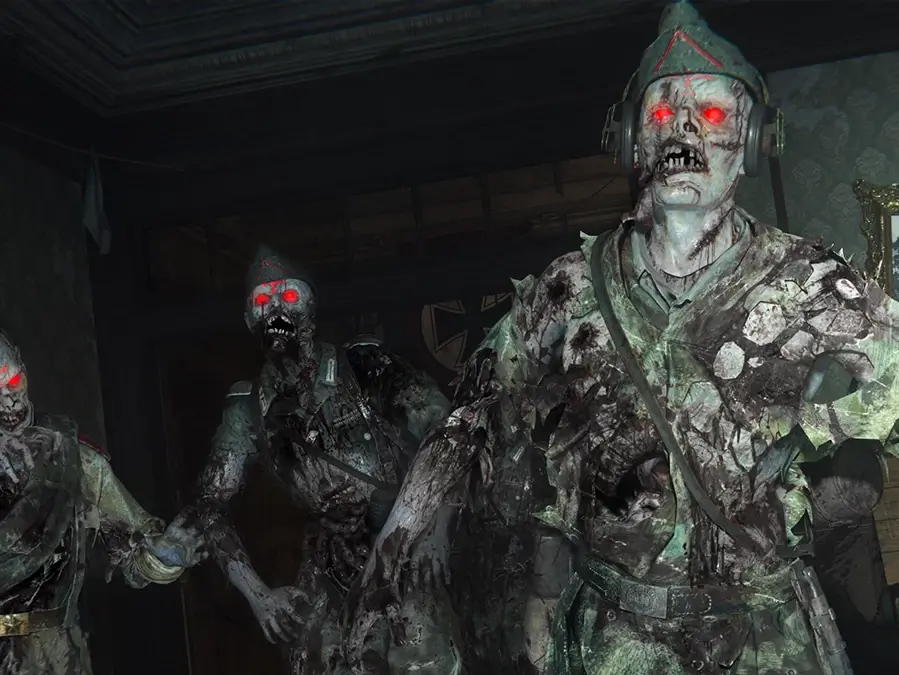 Firstblood · 2 mins read
Vanguard Zombies Leak Shows off New Gameplay
One of the most anticipated parts of Call of Duty: Vanguard's release is the Zombies mode. And now fans have had their first look at the action thanks to a gameplay leak.
Developer Treyarch revealed the Zombies mode officially in October. The team explained that it's a cooperative experience that "continues and intertwines" with the Dark Aether story. Players will have a new set of abilities that helps them take down Stalingrad, Shin No Numa, and other infamous zombies from Von List's army.
While fans were happy to hear more about the mode, there still wasn't much to go on. But now, players got to see the mode first-hand. Twenty minutes of Call of Duty: Vanguard Zombies mode have been leaked ahead of the game's release on November 5.
The full video has since been taken down by Treyarch to nobody's surprise. But fans still had the opportunity to check out the gameplay, inluding footage of the mode as well as pre and post-game options. Before being removed, players were able to watch zombies get blasted with various Vanguard weapons and get a glimpse of war-torn World War II scenery.
What do we know about Call of Duty: Vanguard Zombie mode
Vanguard's Zombies mode is a "franchise-first crossover" that acts as the prequel to the Zombies mode featured in Black Ops Cold War.
Call of Duty: Vanguard Zombie takes place in 1944. It focuses on the Third Reich and its occult activities during World War II. Treyarch said that the tonal direction is "completely new" for Call of Duty Zombies. It also has completely new gameplay and storytelling experiences as well.
Said Treyarch: "The gameplay of 'Der Anfang' blends fan-favorite Zombies elements with fast-paced, objective-based action, ensuring there's never a dull moment as you and your fellow Special Forces operatives fight to surivve the undead."
There will be a brand-new cast of Zombies to face, including Oberfuhrer Von List, Gabriel Krafft, and some other Dark Aether characters that have "entered into a pact with humans to achieve their own mysterious goals."
Call of Duty: Vanguard is coming out November 5, 2021, bringing Zombie mode with it. It will be available on PlayStation 5, PlayStation 4, Xbox Series X, Xobox One, and PC.